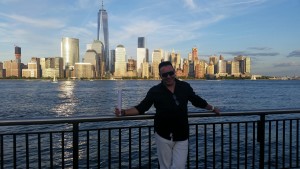 FRANK GIGANTE
 Filmmaker/Producer
Frank Gigante, son of Italian immigrants that settled in Hoboken-New Jersey, discovered his genuine passion for storytelling and embarked in a journey that he is presently persuing, filmmaking.
Frank started his carrier participating in various fictional sitcoms while living in Puglia – Italy. He worked alongside Joe Mantegna, John and Aida Turturro, Frank Stallone and Franco Nero in a Docu-Fiction by Gianni Torres.
In 2007 Frank turned to directing with his first Indie short film, "Role Play," starred Italian actor, Franco Nero.
Now back in the USA Frank started working as a producer, he worked on a tv series pilot with Vincent Scarza from "Manhunters: Fugitive Task Force" A&E shows and "The Live Aid Concert", the largest-scale satellite link-ups and television broadcasts of all time.
At the end of 2015 Frank completed an Anti-Bullying Documentary ("Breaking The Silence") which touches upon Suicide on account of bullying with experts and victims of bullying that share their thoughts on how stop this growing epidemic killing our kids. Special participation, Joe and Jane Clementi from the Tyler Clementi Foundation.
Recently Frank has partnered up in a joint venture with Giuseppe Ardizzone whom has been in the film business for over 15 years. Together optioning and developing Film and Tv Scripts to offer the networks
Frank is a family man with strong values and morals. Frank also holds a position as an investigator for the Hudson County board of elections and assists in the administration of federal state and local elections for voters of Hudson County.
For Columbus day 2016 Frank Gigante received an Italian American Man of the year award from the City of Union City for his contribution to the youth for the prominent Anti-Bullying documentary "Breaking The Silence"
Some upcoming projects are "Forbidden Blood" "Steel Peers" and "The Fixer" (The Larry Rolla Story)
Frank Gigante is the founder and an active producer of My Way Productions