About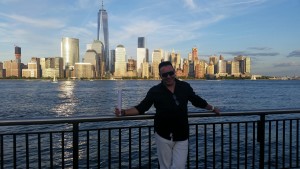 FRANK GIGANTE
 Filmmaker/Producer
Frank Gigante started his film career while living in Puglia Italy with his first film "L'ariamara" directed by Mino Barbarese, shot in Bari in 2005. While living in Italy he heard about the film, got curious and set out to meet the local director to ask for a role in his film. When the two met all's it took were a few words with Mino, Frank's headshot and he landed a role in the film and a lasting friendship.Frank wanted to be an actor, but life, to his surprise, led him in an almost forcing way to producing.
Today Frank pitches various original projects for development, some are his and others optioned. The projects range from new reality shows, TV series, and films based on true stories for the many platforms available today.
Frank is a family man with strong values and morals. Frank also holds a position as an investigator for the Hudson County board of elections and assists in the administration of federal state and local elections for voters of Hudson County.
For Columbus day 2016 Frank Gigante received an Italian American Man of the year award from the City of Union City for his contribution to the youth for his work as an Ant-bullying Activist and the prominent Anti-Bullying documentary "Breaking The Silence".
Some upcoming projects are "Forbidden Blood", "Steel Peers" "Comic Book king" and "Kooking with The Boys" Frank Gigante is the founder and an active producer of My Way Productions